Whether it's the first home or the dream home, we all have our must have lists when looking for a new home. Even when everyone seemingly says "there's no such thing as the perfect home," there are still things that are absolute deal breakers for most of us. And I could speculate that one of the top things on everyone's must have list for a new home is that the house is safe. That is, there are no major issues or repairs that need to be done, unless of course, one is looking for a massive project. For the vast majority of homebuyers, having a home that is ready to go is ideal. Enter the home inspection and the initial and final walkthrough. Both are crucial parts of the homebuying experience and should help ease the mind of the homebuyer. But there are certain things that can go wrong during both the inspection and the walkthrough and I want to help you know what to look for during, and how to best prepare for, a successful home inspection and walkthrough so that you don't immediately have buyer's remorse upon moving in.
Know what you are willing to do and what are absolute non-starters. Before even looking at houses and maybe even before seting your budget, it's a good idea to know what kind of work you are willing to do to a house. The fact is that there are no perfect houses, and with the market the way it is, it is even still more difficult to really be as picky as we want to be. Even with new builds, you can expect there to be issues here and there, especially with how quickly many of these new communities are popping up in the demand for new housing. So what are some things that won't be too bad to fix if the need arose? How much money do you have at your disposable to do those repairs? What can be done yourself and what may need an expert to take care of? These are questions you should ask yourself before looking at homes and while looking at homes.
Do your research and interview a variety of home inspectors. Most real estate agents will have a preferred inspector that they will undoubtedly refer you to. And for new builds, the builder will do a series of their own inspections. Regardless, it is still important to do your research and find a home inspector that works best for you. You want to ask questions regarding what their basic inspections look for, what kidn of equipment they use, where and what are inspection in the house, how long the inspection should take, and most importantly, can you be there during the inspection so that you can also see what they see and ask questions during the process. If you are scheduled to have a walkthrough, you are then able to bring any concerns or questions front he inspector to the walk through and ask for certain things to be taken care of. Never ever waive an inspection or walkthrough! I know it's a crazy ass market, btu any seller asking buyers to do this is sketchy, deserves all the red flags, and you should run away quickly.
Schedule your walkthrough and inspection for when you are able to be there. I have heard horror stories about how some builders have scheduled people for their wlaktrhoguh and then wont allow the buyer to change the date if they are not able to be there. This is a red flag and something you should verify with the builder or the seller before going under contract. The fact is that things happen and it sometimes cannot be helped if something has to be postponed. Now, I get it, these builders are under a strict timeline. Sellers often desire to close as soon as possible for they may be trying to buy a new house or may need to be out of their home by a specific time. But you are the buyer! You are the one shelving out hundreds of thousands of dollars in this investment and it's important that you are there for the entire process if you are able to be. The homebuying process is a continual negotiation and as long as you communicate openly with your agent and/or with the builder, there should be no major issues if dates need to be moved.
Make a list of everything to look for during the walkthrough. When I was preparing for our walkthrough, I looked at so many YouTube videos and read so many articles about new home walkthroughs, making note of what to check during our scheduled walkthrough and new home orientation. Some of the major things to look for are as follows.

Check the walls for any dents, cracks and other issues with paint/drywall
Check all the appliances for proper functioning
Open and close all windows to ensure there's no draft and that they open and close without great effort
Check all electrical outlets to ensure proper function
Flush all toilets
Turn on all faucets to ensure proper water temperature and pressure
Check flooring for any scratches, stains, chips, etc
Test ceiling and bathroom fans

Come to the walkthrough prepared. When checking for some of the above items, you need the right supplies with you. Some of the things you should bring for a walkthrough are:

A flashlight to check crawl spaces, attics, or other small unlit spaces
A water bottle to put in the freezer to check how freezer is working
Painter's tape to point out any flaws in the paint or trim
Toilet paper to flush
Sales contract to check all that conveys with the house
A phone to take pictures of any issues that you might come across in the home
A charger to check the outlets
The inpspetion summary to check that all repairs were fixed as promised

Bring another set of eyes. If possible, have some backup with you during the inspection and specially during the walkthrough. There's always something that will be missed. Having someone else helping you, whether it's a partner, friend, or family member, will allow you to divide and conquer. During our walkthrough, my husband and I split up immediately upon entering the home. I checked downstairs and he checked the upstairs. Then we switched and doubled checked after each other. Having some help allowed us to ensure we found everything and was able to bring those concerns to the bilder to have fixed before closing.
Wear something comfortable. Save the cute outfit for closing day. Inspections and walkthroughs will involve you being on your feet alot! And it's important to be comfortable so that you can reach up and bend down, walk up and down the stairs and walk over a variety of different textures. It's also important to bring layers, as you should be checking the thermostats in the house. And remember to dress for weather. We live in Florida and during Hurricane season, it can open up and rain any minute, so for us it was important to have a pair of rainboots at the ready in case it opened up while we were checking the outside of the house.
Speaking of weather, don't get upset if there's clouds. They say that it's a good idea to look at houses in the rain. You won't only live in the house during beautiful weather. So it's wise to see how the house holds up in all sorts of weather. How is the isolation for strong and/or cold winds? How does the house direct rain away from the house? Does the yard, driveway, sidewalk, and surrounding street flood in heavy rain and storms? How does the AC perform when it's super hot and humid outside? Obviously unless you are Storm from the X-Men, you cannot control what the weather will be for your inspections and walkthroughs, but I encourage you to not get frustrated or stressed if you do see chances of rain or snow on your inspection or walkthrough days.
Find a knowledgeable agent. This piece of advise might be better suited for an overall homebuying advice piece, but your agent is going to come in clutch during the last few weeks of your homebuying experience. Having an agent who is knowledgeable about new builds in the area is crucial when dealing with builders, and especially when there are issues that must be remedied. This is your house! And you shouldn't have to close with anything left on the table that must be done. It's here that your agent will work for you, communicating with the builder your demands and following up for you to ensure they are done. If you are buying a resale property, your agent will be the one you will primarily talk to regarding any issues about the house and will communicate your requests for repair to the seller's agent. A good agent will then check to ensure that those repairs or if necessary any concessions for the repairs have been agreed upon by the sellers. A good agent will ensure that you don't move into your new home with unresolved issues.
Check for evidence of pests or mold. If you are buying a new construction, odds are your house will be exposed to the elements until the final lock is put on the door. If it's a resale, then you are dealing with possible lasting effects of people living in the dwelling for at least a few years if not more. Mold can happen in both resales and new construction, especially in humid areas. Be sure to check for any signs of it, mildew, as well as general messiness. In new construction, this might look like paint drips onto surfaces, including flooring and window coverings. Pests will always find their way into any dwelling when given the opportunity. Droppings will be your first clue that the home may have another tenant. Key places to check are bathrooms, kitchens, and anywhere where furniture was. Signs of pest infestations include dry rot, spongy floors, and crumbing timbers. A good inspector will catch this; but you should still check to ensure the proper procedures were done to remedy the problem.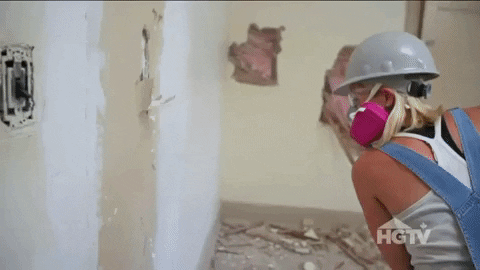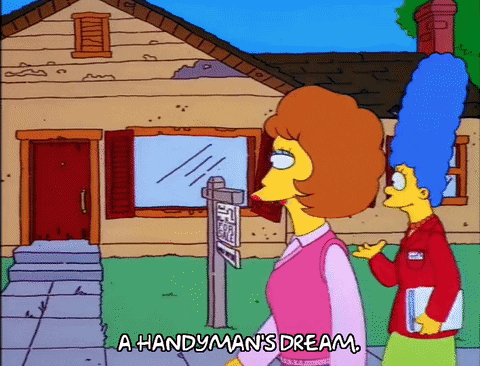 Buying a house is stressful but it doesn't need to be a horrible experience. I always say proper pre-planning is key and I've found these tips to be helpful in both our homebuying experiences. There is no perfect house, but if you follow these tips, you can be assured that your new house will be perfect for you.
Have you bought a home in this crazy market? What was your inspection and walkthrough experience like? What other tips did you find to be helpful? Share your experiences below. Until next time, stay Earthbound friends!